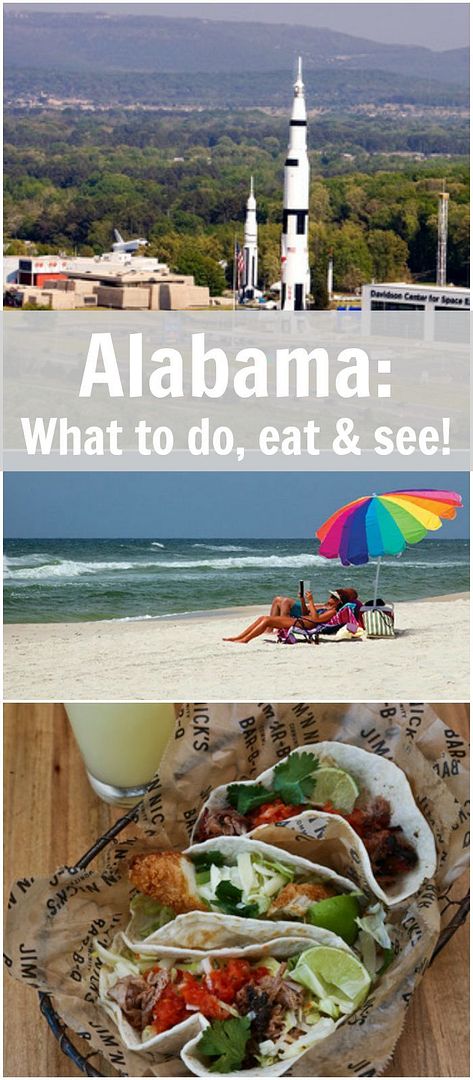 Looking for insider tips on what to include on your Alabama roadtrip? Or maybe you're looking for a new vacation destination and haven't considered Alabama as one of your choices?
Why Visit Alabama?
You'll get the best mix of incredible food, history, music, family attractions and gorgeous beaches.
As a traveler, you can enjoy everything from white sand beaches, award winning BBQ, world class golf courses, interactive science centers and more. There's a trip already planned for people of any age or cultural background in Sweet Home Alabama!
Alabama Food
What should be your #1 priority when visiting Alabama? Say it with me: where to eat!
Not only will you find write-home-worthy restaurants, but the Alabama BBQ will bring you to your knees. Alabama was named the "Most BBQ Crazed State in the US" in 2014 according to Estately.com and with good reason. It's BBQ restaurants are consistently featured in national publications and continue to drive tourism to the state!
(Image Credit: Alabama BBQ)
The Alabama BBQ Bracket has pitted local recipes against each other for the past few years, but this year they're taking it to neighboring states. This year has been declared The Year of the Alabama BBQ and the state is on a mission to prove it has the best BBQ in the US! Visit some of their most notable joints, some Mom & Pop diners and dives to vote for your favorite! There's even an Alabama BBQ Trail app to help guide you on your noble endeavor (you provide the napkins)!
Alabama food isn't all BBQ, though. Beyond the BBQ, you can find everything from soul food to 5-star restaurants to international cuisine. The state also boasts nearly 130 Farmers' Markets where you can get locally grown produce and handmade goods!
(Image Credit: Alabama Food)
What To Do In Alabama
Pristine Beaches
Nothing quite screams vacation like visiting the beach, and Alabama's pristine, white sand beaches are one of it's best kept secrets. The miles of turquoise water are perfect for a relaxing afternoon reading a book while the kids play in the sand, but don't be fooled… there's so much more to Alabama beaches.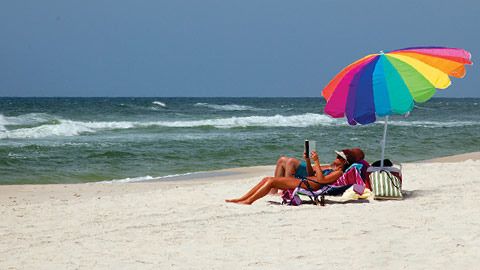 (Image Credit: Alabama Roadtrips)
Your trip to the Gulf Coast could also include fishing expeditions, dolphin sightseeing tours, kayak and canoe adventures, bird watching and more. Plus the fresh seafood is never a bad thing!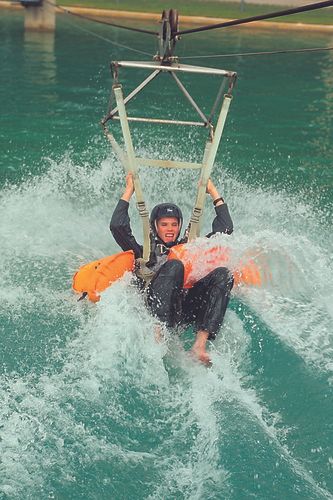 (Image Credit: Alabama Roadtrips)
History
Alabama is rich in history including Civil Rights Destinations where you can still tour The First White House of the Confederacy, the restored Capitol, the Confederate Memorial Park and more. Visitors can follow the Alabama Civil War Trail brochure to visit the dozens of battlefields, museums and cemeteries that played such a pivotal role in our nation's history.
The state also boasts a rich Native American history, the Heart of Dixie Railroad Museum and tours of historic homes. Alabama has had a diverse history throughout the centuries and it's all waiting for you to explore!
Family Activities
Music lovers will feel right at home when visiting the Alabama Jazz Hall of Fame, Hank Williams' boyhood home and museum, the Commodores Studio and so much more. Musical history runs deep through all of Alabama and you won't run out of places to see live music from large arenas to intimate clubs.
(Image Credit: Alabama Roadtrips)
If science is more your spin, you can join hundreds of thousands of other visitors who arrive each year in Huntsville to visit the U.S. Space and Rocket Center. You'll get the opportunity to see a space ship up close and learn more about this universe we all live in!
(Image Credit: Alabama Roadtrips)
Save